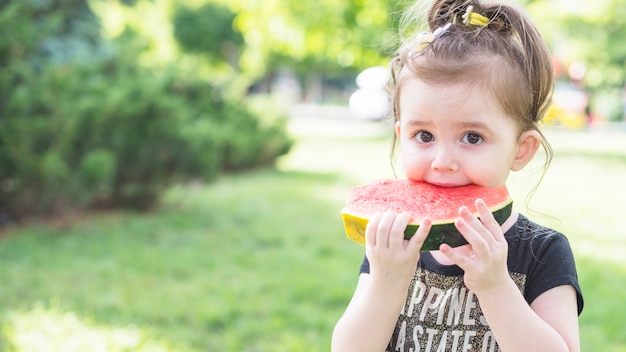 We all very well know that children are very active and energetic, they often expend more energy than they take in. And added to that, the summer heat and the dehydration it invariably causes. Thus, it becomes difficult for the parents to ensure that the child's nutrition is adjusted accordingly, to get them along the day.
Here are some cooling summer foods that your children will love to have:
Is there anyone who doesn't like juicy, cooling watermelon? And yes the answer would be "No". Watermelons are available all through the year at supermarkets nowadays, but still it is a treat for us to see the fresh local ones in the market when the summer is up right? Usually the sweetest are the bright red ones. They are made up of 92% water, they are great for hydrating our body.
As we are very much aware that Cucumber is very cool, rich in vitamins and also has high water content in them. This vegetable is very much popular on Indian dining tables as part of the 'green salad'. Cucumbers help to cool the body and have fiber in them which keeps constipation away. If you find your child  being fussy about food, just leave a bowl of cucumber sticks on her table and watch them how they disappear out.
Do you know that Yogurt is Punjabi's answer to the burning heat. Lassi will accompany each meal as does raita or just plain dahi (curd). They are pretty good for digestion and the yogurt helps the body cool from inside. You can also top it off with some sugar or add in some fruits; it's a treat that children will love and enjoy.
We can say that both for children and adults, coconut water is something like a magical solution. The subtle taste which it has in it is a hit with children and it has potassium, electrolytes and plenty of nutrients, keeping the body hydrated and healthy. Try to buy fresh coconuts and not the packed ones from the supermarket shelves.
Pack up those ready-made juices and make a fresh nimbu pani/lime juice when your child comes back home from play. Children love the tangy flavour and the Vitamin C in lemon helps to build their immunity. Like many of these amazing foods, lemon helps in proper digestion and also cleans the body from within.
Mint is a cooling, calming and soothing herb that has been used by everyone since many years which helps with upset stomach or indigestion. Adding it to your water makes for the perfect cooling drink on a hot sunny day. Mint, also helps to reduce gastric acids and thus 'settles' your tummy.
Most of us often end our meals with half a spoon of saunf or fennel seeds. What most of us may not know is that, this is not just a mouth freshener which everyone thinks of. Fennel seeds helps in digestion by preventing acid flux and stimulates intestinal fluids. The perfect way to end a good meal is to have some fennel seeds/saunf.